The Canon PM-V1 Positive Lock (PL) Lens Mount Kit opens up a new world of lens possibilities when fitted to the C300 MKIII.
Also compatible with the full-frame C500 MKII, the PL Lens Mount Adapter allows the fitment of hundreds of professional cine grade lenses available from film rental houses around the world.
With the PM-V1 PL Mount Kit fitted you can now shoot with:
The C300 MKII & C500 MKII will display the correct aspect ratio when using anamorphic lenses by applying a desqueeze of x1.3 or x2.0.
In addition lens data from intelligent lenses such as the Cooke i-series will be relayed to the camera via terminals on the adapter to be displayed on the viewfinder and recorded as metadata.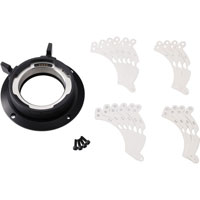 The PM-V1 PL Mount Adapter Kit is supplied in a Peli case with 4 spare mounting bolts, an Allen key and a set of shims in four different thicknesses.
Need a PL lens mount adapter for your C300 MK III or C500 MKII?
Call Peter now to rent the PM-V1 adapter 07831 196 346
(Visited 213 times, 1 visits today)